🚀 Looking to Maximize Your Investments? Discover OhYeahLive! 🌟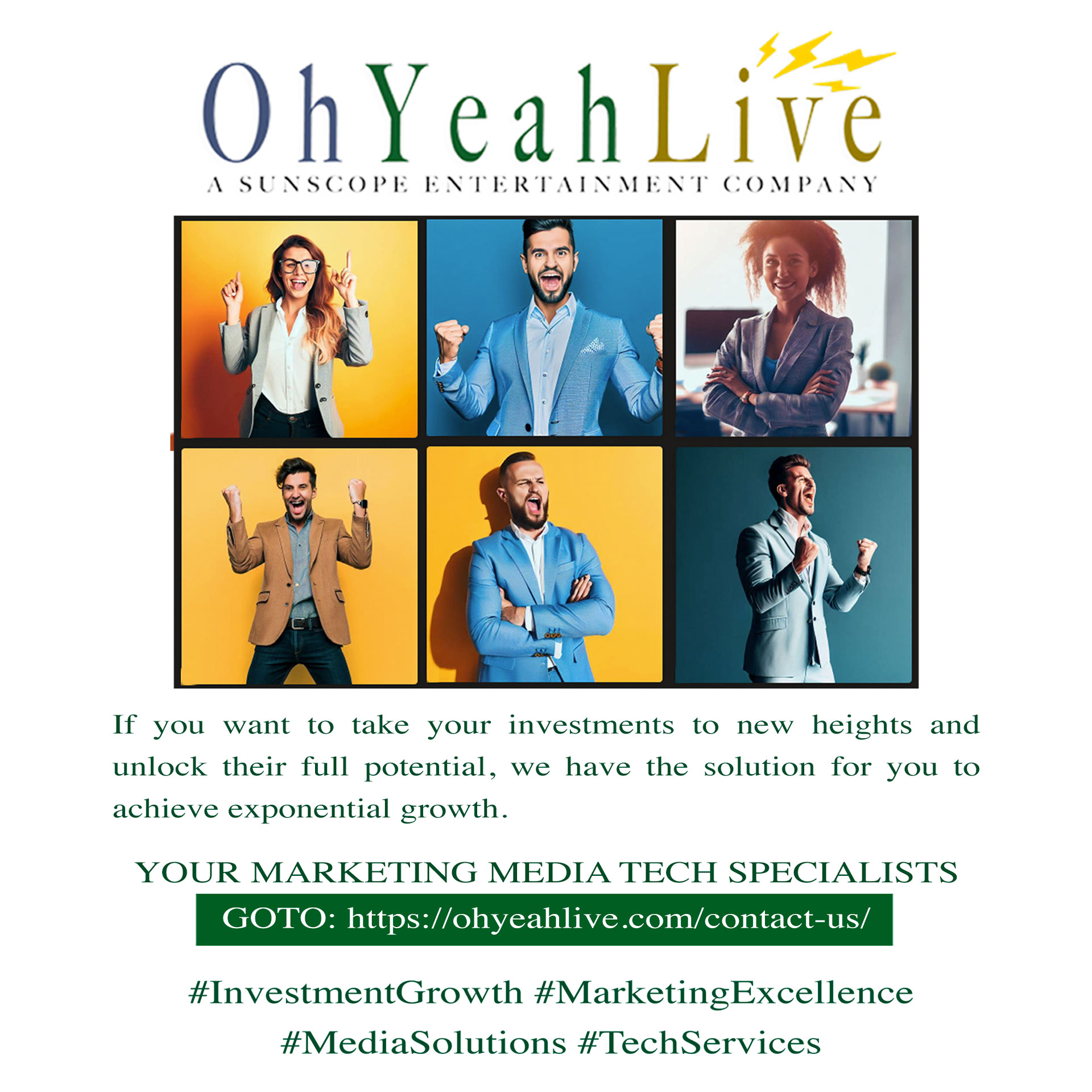 If you want to take your investments to new heights and unlock their full potential, we have the solution for you! Introducing OhYeahLive, your ultimate destination for top-notch marketing, media, and tech services. With a proven track record and a commitment to delivering exceptional results, we are your trusted partner in achieving exponential growth.
At OhYeahLive (https://ohyeahlive.com), we understand the power of strategic marketing, cutting-edge media solutions, and innovative technology. Our dedicated team of experts is equipped with the knowledge, skills, and passion to propel your business forward and help you reach new horizons of success.
Here's what makes OhYeahLive stand out from the crowd:
🎯 Comprehensive Marketing Strategies: We believe in tailored approaches that align with your unique goals and target audience. Whether you need assistance with brand development, digital marketing, social media management, or SEO optimization, our experts will craft a personalized roadmap to drive your business's growth.
📺 Engaging Media Solutions: In today's fast-paced world, captivating visuals and compelling content are essential to stand out. Our media services cover various offerings, including video production, graphic design, website development, and content creation. We'll ensure your brand shines across various platforms and leaves a lasting impression on your audience.
💡 Cutting-Edge Tech Expertise: As technology evolves rapidly, staying ahead is crucial. OhYeahLive's tech services encompass everything from software development and app creation to data analytics and automation solutions. We leverage the latest tools and innovations to optimize your operations, streamline workflows, and boost overall efficiency.
🤝 Client-Centric Approach: We prioritize building solid relationships with our clients, working closely with you to understand your specific needs and objectives. Your success is our success, and we strive to deliver outstanding value by providing personalized attention, timely communication, and transparent collaboration throughout our partnership.
Take advantage of the opportunity to expand your investments and elevate your business. Today, visit our website, OhYeahLive (https://ohyeahlive.com), to learn more about our comprehensive services and explore how we can help you achieve remarkable growth.
Together, let's unlock the full potential of your investments and embark on an exciting journey toward success. OhYeahLive is here to make it happen!
OhYeahLive #InvestmentGrowth #MarketingExcellence #MediaSolutions #TechServices